Massage Oils and Linens Do They Mix?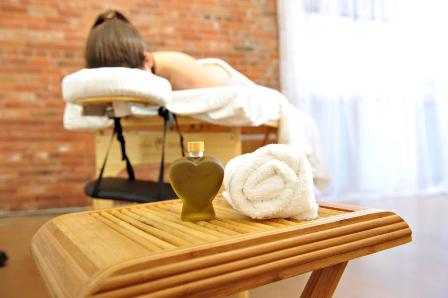 Pure, cold pressed, virgin oil & luxurious 100% cotton massage linens.
What makes one massage therapy treatment better than an another?   After the obvious comparing of credentials and clinical experience, the convenience of booking, getting there…and parking!
What about the smells we encounter and the sheets we slip our bodies between.  One thing I really appreciate when I go for a massage therapy session is clean linen.  I like the sheets to be clean and the room to feel hygienic without a clinical coldness which inhibits relaxation.  When I experience a rancid oil smell from sheets or the room/office setting it is a real turnoff.
Keeping massage table linens clean and oil free has been a dilemma for massage therapists the world over.  What common solutions (no pun intended) have been used and how do they measure up in my opinion.
1) Use of harsh chemicals to clean the linens.  Bleach, strong oil dispersant's, and chemical cleaners and detergents in the wash.  My Comment:    Well not environmentally friendly is the obvious one and sometimes there is a residue of these chemicals left in the sheets.  These can trigger allergies and reactions in the sinuses and skin.
2) Use thinner sheets that don't hold the oils like thicker denser linens.  Usually these sheets are poly-cotton and don't have the same quality feel as 100% cotton and flannel sheets.  My Comment:  These sheets are cheaper to purchase and keep clean for the therapist.
3) Use massage lotions with oil dispersant and other chemicals in them to facilitate easier cleaning. My Comment:   Definitely ask , your therapist what they are using on YOUR SKIN?  You should know what the ingredients of massage lotions, cremes and oils are.  After all your skin absorbs this stuff as if you were eating it.
4) Refined oils manufactured to disperse oil and wash out of linen better than unrefined oils.  My Comment:  These are manufactured by larger companies and sold to therapists as professional massage oils.  They are usually rendered, bleached and deodorised to create a more commercial brand product that meets the demands for easier cleaning of linens and no longer carry any natural scent from the nut seed or plant that the oil was derived from.  You can tell these oils have been bleached when there is very little natural color to the oil.  See the oil in the picture above has the natural green color of the avocado oil that has been blended with macadamia and sunflower oils.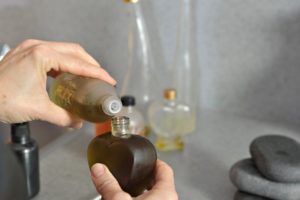 5) My Professional Recommendation:  Use pure, cold expellor pressed oils on the skin whenever possible.  Organic oils are the ultimate food for the skin adding essential fatty acids and nutrients to the body as they are massaged into your muscles.  If deeper tissue work is required use balms and butters from shea, olive oil, beeswax and coconut to name a few.  As for the linen use the best quality linens you can afford, use basic cleaning solutions with no added artificial fragrance like our Always Kleen Detergent made especially for massage linens.with no added artificial fragrance.  Replace your linens regularly when they become pilled, stained or the oil won't come out.  You can always take your linens to a professional cleaning company to remove the oil residue for you.  They really know how to fold your linen too and it looks great when you get it back. Some cleaners will use professional Green cleaning products.  Check in for my next blog on Massage Oils and Balms.  Thanks for reading Roxanne Derkson RMT GCFP
https://vivitherapyshop.com/wp-content/uploads/2014/09/massage-linenandoilheartbottle.jpg
298
448
Roxanne D
https://vivitherapyshop.com/wp-content/uploads/2021/06/footer-logo-full-colour.svg
Roxanne D
2021-10-25 14:18:32
2021-10-25 14:21:58
Massage Oils and Linens Do They Mix?